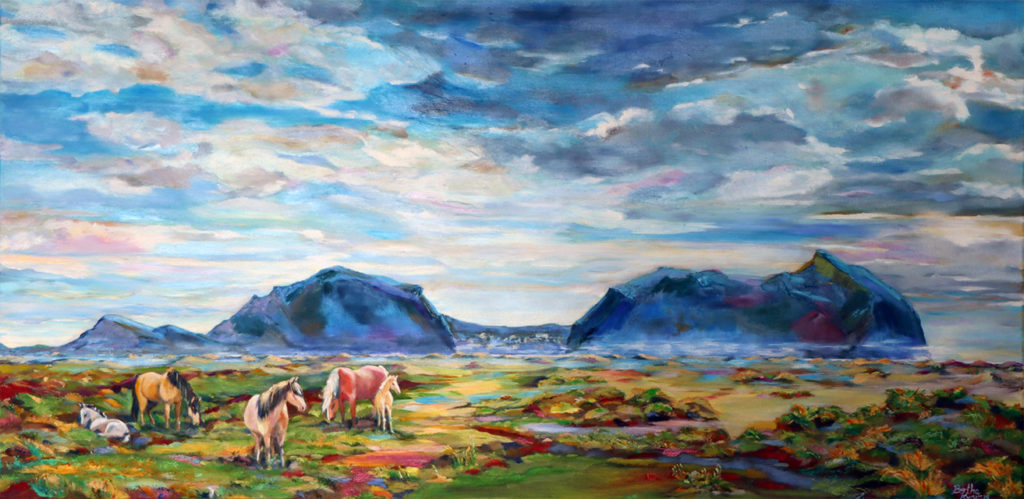 I have often been asked what I need to be able to paint a specially requested painting.
Actually I do not need a lot. It depends entirely on the project each time.
Often it is just an idea,
sometimes from a photograph, or from multiple photographs which I find the best composition,
videos, all depending on the customers wishes.
For landscape and farmscape, it is enough to name the place. I can find references myself, or use provided ones. Usually people send me more than one, and ask me to emphasize on a specific spot as the main focal point.
When painting animals, for example horses, it is good to get several headshots, straight from the front, and from both profiles/sides. This way I get an idea of the animal's character. If the horse is supposed to be in full size, with or without a rider, it is very good to be able to see their form, running free or under a rider, doesn't matter weather it is on a photo or video. 
Making an exact replica of a photograph is not very exciting, it is more about capturing the animals likeness and spirit, and of course with a hint of abstraction, weather it is with color, texture or by having the landscape blurred.
Sheep, cats, dogs and other animals, a good headshot is usually enough.
For human portraits, please send clear photos with good likeness.
I sell by sizes for the most part, and the same goes for Commissioned work.
I do however request a non-refundable down-payment for up to 50% from first time customers or people I don't know.
To give you an idea what to expect, here is a list of the most common sizes.
Please notice that artwork sold or commissioned outside of Iceland, which has to be shipped, will have added shipping cost. (More info below*)
There is no extra cost for shipping within Iceland.
50x50cm: 50.000,-
50x70cm: 70.000,-
60x60cm: 72.000,-
60x80cm – 80x100cm: 96.000,- – 160.000,-
80x100cm – 100x100cm: 160.000,- – 200.000,-
90x120cm – 120x150cm: 216.000,- – 360.000,-
* Larger artwork commissions to be shipped abroad is usually taken off the stretcher bars, rolled, and shipped in a tube. (larger than 80x100cm). It is usually not expensive to have it re-stretched and or framed in the destination country.
An extra cost of ISK 8500 is added for shipping with the Postal Service, flat packages up to 80x100cm or rolled without the stretcher bars in a tube for larger paintings.
Should you wish to use FedEx or DHL shipping, I need to get an estimate on the cost, so please contact me beforehand.
For any questions or concerns or to order a commission